Joseph Cioffi | Primary Author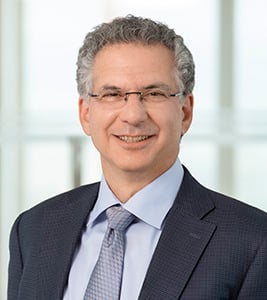 Joseph Cioffi is a Partner at Davis+Gilbert in New York City where he is Chair of the Insolvency + Finance Practice Group, a multidisciplinary practice spanning corporate, insolvency and litigation. He has a unique perspective afforded by his experience in all stages of credit and market cycles, including in subprime lending investments, operations and litigation. Joseph and his group have been deeply involved in disputes and litigation resulting from the last financial crisis.
He has written for or has been quoted by numerous publications, including American Banker, Law360, Asset Securitization Report, The Banking Law Journal, Financial Times, The Journal of Bankruptcy Law, Auto Finance News and WNYC, regarding auto loans, student loans, marketplace lending, subprime residential mortgage-backed securities (RMBS) and environmental, social and governance (ESG) investing.
Market Insights Powered by Legal Experience
Economic, market and political events shape the legal landscape and impact loan and credit markets, each time moving us closer or farther away from a cycle's end, a crisis' beginning or the next boom. From the perspective of lawyers and other professionals who have lived through past cycles, the Credit Chronometer™ is an award-winning blog dedicated to analyzing the effects of these events on future performance and participants' legal exposure.
Certain markets warrant special attention due to risky practices, an evolving regulatory environment or dynamic market forces.
Insolvency + Finance Group
Davis+Gilbert's Insolvency + Finance Practice Group represents clients in a broad range of corporate, insolvency and litigation matters. The group has been actively involved in many of the most notable and highly visible business events in recent years related to the last economic downturn and has vast experience in the area of subprime lending, including the operation of origination platforms, relationships with servicers and defending large-scale asset-backed securities litigation. The broad and diverse experience of their attorneys makes them particularly well-equipped to advise clients in rapidly evolving markets, such as, those for auto loans, student loans, marketplace lending, mortgage loans and environmental, social and governance (ESG) investing. Additional highlights of the practice include the following:
Litigation: The group regularly prosecutes and defends litigation involving complex financial transactions and instruments and has defended asset-backed securities litigation, including for residential mortgage-backed securities (RMBS), encompassing fraud and repurchase claims, involving nearly $2 billion in claims.
Bankruptcy: The group guides clients through financially distressed situations and helps formulate and execute creditor enforcement strategies, in particular, in the case of intermediaries facing obligations to third parties. The group has defended nearly $1 billion in fraudulent transfer claims brought by the trustee for the liquidation of Bernard L. Madoff Investment Securities LLC.
Corporate: The group also advises on a full range of financing transactions, including secured revolving and term credit facilities, receivable financing arrangements, intercreditor agreements, warehouse lending facilities and loan purchase agreements.
+ Learn more about the Davis+Gilbert Insolvency + Finance Practice Group
Davis+Gilbert helped guide the development of the marketing communications ecosystem over the past century. Today, we apply that same see-around-corners vision to real estate, financial services, hospitality, technology and other service sector clients across the country and around the world. And it's not just about the law; with deep insights into industry issues, our legal strategies work in tandem with business realities to reduce risk and make a real competitive difference. We focus on Advertising + Marketing, Benefits + Compensation, Corporate + Transactions, Insolvency + Finance, Intellectual Property + Media, Labor + Employment, Litigation + Dispute Resolution, Privacy + Data Security, Private Client Services, and Real Estate. Davis+Gilbert is consistently ranked in Chambers USA and The Legal 500 United States.